New Construction Electrical Services in Dallas, Texas
Your Best Choice Commercial, Industrial, and Institutional Properties
AMEX Electric has over 15 years of experience helping businesses and organizations design and install the electrical infrastructures on which their buildings rely.
From the drawing board to the moment your new building's doors open, our skilled electricians are by your side, ensuring that your indoor and outdoor lighting, equipment, data centers, security systems, and more have the power they need.
Our team prides itself on doing more than just servicing your electrical needs too. We strive to build relationships with our clients that last long after their building's construction.
---
Call AMEX Electric today at (214) 247-7670 or contact us online to get a free estimate for your new construction electrical service!
---
Our New Construction Services
What your new building requires will vary depending on how you want to use it and where it is located. Our electricians can provide you with tailored services that help your new space have the power it needs when it matters most.
Some of our new construction services include:
Custom designs and builds
Service panel installation or service upgrades
Data center cabling and conduit installation and set up
Generator installation
General electrical services and safety testing
Lighting installation inside of your space, as well as outside
Wiring installation and electrical outlet and switch installation and placement
No matter the service, our team will work with you as you navigate your new construction project, and we will ensure that when finished, you will have the power you need to succeed.
---
Contact us online or call us today (214) 247-7670 to find out what we can do for you.
---
The Benefits of New Construction Electrical Services
When it comes to new construction projects, one crucial aspect that requires careful consideration is the electrical system. The quality and efficiency of the electrical services provided during new construction can have a significant impact on the safety, functionality, and long-term value of the building. AMEX Electric understands the importance of reliable electrical services in new construction, and we are committed to delivering exceptional solutions.
The advantages of investing in professional new construction electrical services provided by AMEX Electric include:
Safety and Compliance: Ensuring the safety of occupants is paramount in any new construction project. Professional electrical services guarantee compliance with all relevant safety codes and regulations. AMEX Electric's experienced team of electricians possesses a comprehensive understanding of local and national electrical codes, ensuring that every installation and wiring procedure meets the highest safety standards. By prioritizing safety, you can have peace of mind knowing that your new construction project is in capable hands.
Reliable and Efficient Electrical System: By engaging AMEX Electric for new construction electrical services, you can expect a reliable and efficient electrical system that will meet the demands of modern living or working spaces. Our skilled electricians will meticulously design and install the electrical infrastructure, considering factors such as load calculations, energy efficiency, and future expansion possibilities. A well-designed electrical system will provide uninterrupted power supply, minimize downtime, and facilitate the smooth operation of various electrical devices and systems within the building.
Customized Solutions: Every new construction project has unique requirements and specifications. AMEX Electric understands the importance of customization to meet the specific electrical needs of your project. Our team will work closely with you, architects, and contractors to develop tailored electrical solutions that align with your vision and goals. Whether it's designing a comprehensive lighting plan, implementing advanced wiring techniques, or integrating smart home technologies, our experts will ensure that the electrical system is optimized to enhance functionality and convenience.
Energy Efficiency: Incorporating energy-efficient electrical solutions during new construction can lead to substantial cost savings over time. AMEX Electric specializes in providing energy-efficient options such as LED lighting, occupancy sensors, and energy management systems. By utilizing these technologies, you can reduce energy consumption, lower utility bills, and contribute to a greener environment. Our team can also offer guidance on sustainable electrical practices and recommend renewable energy integration to further enhance energy efficiency.
Professional Expertise and Accountability: Choosing AMEX Electric for new construction electrical services means benefiting from our extensive industry expertise and professional accountability. Our team comprises highly trained electricians who stay updated with the latest industry advancements and best practices. From the initial design phase to the final installation and beyond, we take pride in our commitment to delivering exceptional results and providing ongoing support for your electrical needs.
Investing in professional new construction electrical services provided by AMEX Electric offers a multitude of benefits. From ensuring safety and compliance to delivering reliable and efficient electrical systems, our team is dedicated to delivering customized solutions that align with your project's requirements. With a focus on energy efficiency and professional expertise, AMEX Electric is your trusted partner for all your new construction electrical needs.
Putting Energy Efficiency First Can Help You Save
At AMEX Electric, we are uniquely able to help you get the most from your electrical infrastructure and save money from the very start. We can help you install the industry's most efficient and long-lasting light bulbs and fixtures, set up EV chargers on your property for employees and patrons, prime your space for future innovations in energy technology, and more.
Our QMerit Partnership Makes Getting EV Chargers Easy
Our electrical contractors make getting EV chargers at your new location in Dallas easier than ever before. This is because our team has partnered with QMerit, industry leaders in EV charging technologies, as well as other forms of electrification. Including EV chargers in your construction plans can help you reap many benefits, from attracting new customers to saving money through incentives.
If you want to learn more about EV chargers and what they can do for you, check out our page devoted to the subject.
Why AMEX Electric?
Trusted for a Reason
Years of Experience

AMEX Electric Services has been providing quality electrical service to the state of Texas since 2006. Our technicians are equipped to repair, service, and install it all!

Trained & Skilled Team

We work around the clock to keep your electrical system working at peak efficiency, and have the skills and experience necessary to perform both installation and repair work.

Committed to Your Project

We are committed to business INTEGRITY and HONESTY, through hard work, organization, courtesy, and communication. Get experts on the job that you can trust.
Perfect Lighting the First Time
Of all the electrical services construction requires, lighting is one of the most important for your business or organization to look and function the way you want. Fortunately for our clients, lighting is one of our specialties.
Throughout our years of experience, our electricians have installed and serviced lighting that has made new locations stand out, helped office environments feel comfortable, and allowed patrons and employees to be safer in a location's parking lot.
By choosing AMEX Electric, you can trust that we will work with you to bring the ideas you have for your new space's ideal lighting to life.
Security Systems and Data Centers at New Locations
At the end of construction, any property owner needs to be sure that their new location is safe, and that their data centers have the power they need to be secure. Our experienced electricians have exactly what our clients need to make sure this is the case.
Here is how we can help:
Security Systems: our team can strategically install camera wiring and lighting throughout your property, as well as set up alarm and access control systems that ensure whoever enters your property is authorized to be there
Data Centers: we know how vital data can be for your business or organization, which is why you should trust us to set up the electrical infrastructures that will support your data centers so that they can be as efficient and effective as you need them to be
---
For your new construction's electrical needs, call us today at (214) 247-7670 or contact us online for a free estimate.
---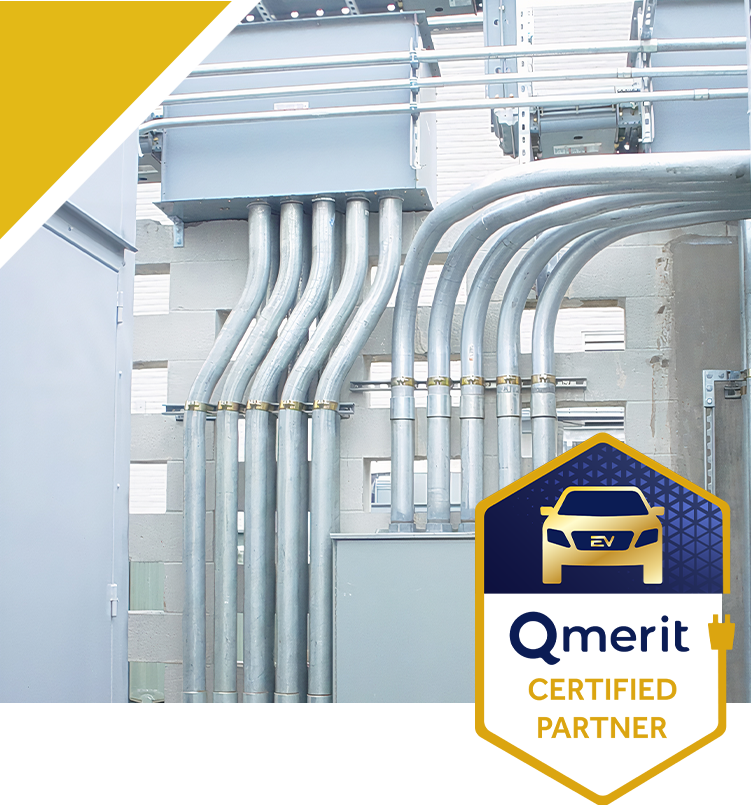 Let Our Experts Assist You
Our Testimonials
"AMEX Electrical Services has been a trusted subcontractor for over six years providing an on-time and in-budget approach in all of the projects they have collaborated with us. I appreciate them for understanding the urgency and quality our clients demand."

- Pablo Chavez- Project Manager

"Very Friendly and Professional!"

- Mario L.

"Great customer service!"

- Sandra S.

"Professionalism and did a nice job."

- Cherrie I.

"Professional!"

- Owen B.

"Was flexible and open to ideas on how I wanted the charger installed."

- Paul C.